PRINTING
Two 8 colour Roto-Gravure Printing machines with contemporary features like auto-registration, web video which ensure consistent and high quality multi colour printing.
LAMINATION
Solvent Less Lamination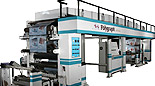 Solvent Based Lamination
Solvent based and Solvent Less Lamination Felicities
SLITTING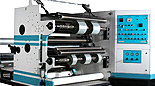 High quality slitting machines ensure that the coils are wounded properly and are free to use on the FFS machines.
POUCHING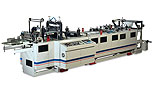 Branding is a decisive factor in the success of any product. As pouches of various sizes offer a different dimension to branding, our pouching facilities can make customized pouches such as Centre Seal, Side Sealed, Side Gusset, Standy, Reusable and Pouches with Zip Lock, V Notch, Soft Corners, Hanger Hole And Loop etc.
STORAGE AND PACKING
Includes a large warehouse to sort and store the raw materials as well as finished stock. A Fully automated packing machine for the finished product ensures that the material reaches to the customer in ready-to-use condition.